Top questions about cleaning leather
Does my leather really need conditioning?
What kind of conditioners are best?
What about cleaning my car leather?
Starting With The Basics
With decades of experience in cleaning and refurbishing surfaces, we've learned a few things along the way. The single most important thing to remember is that we live in a marketing society that is overloaded with information - much of it incorrect. So how do you disect what is good and bad for you care interior, for your boat interior, for the health of your home, for your family... You catch our drift...
"In Our Opinion", based on experience
Research has only confirmed that leathers of today are not the leathers of yesterday. Hopefully, you've come to this same conclusion with many products in your life. Today's modern pigments, dyes and finishing processes have produced a car leather that is very resistant to the wear and tear that leather must endure inside the operating environment of our families, our jobs and our recreation vehicles.
This also means that the days of searching for the best auto leather conditioner are mostly a thing of the past. Since many of you may be "old dogs" and since old rules die very slow deaths, you will likely continue your search for the best auto leather conditioner that your money can buy, regardless of updated teachings.
Quest on my friend.
About cleaning leather interior
Virtually all car leathers used today are finished with a clear protective coating that is applied for protection and durability of the leather. What does this mean? It means you will actually be cleaning, treating, or conditioning a clear protective layer that is made up of different types of resins, polymers, synthetics. The point is that you are not dealing with the actual leather, but the clear protective layer; just like the clear coat on your car paint.
Keeping your car leather clean is the most important and critical part of the health and beauty of your car leather. In the experience of Color Glo professionals, keeping your leather clean and safe from elements consistently over the life of the car can keep your interior looking just like new 10 years later.
With all that said, SOME auto leather conditioners can still play a role in the health and beauty of your car's leather interiors. Do your homework or ask your local Color Glo specialist.
So let's get to it
As mentioned, if you want your chariot to look clean and new for its lifetime, then weekly cleaning of its interior is a key point here, specifically for your leather. So what are the essentials?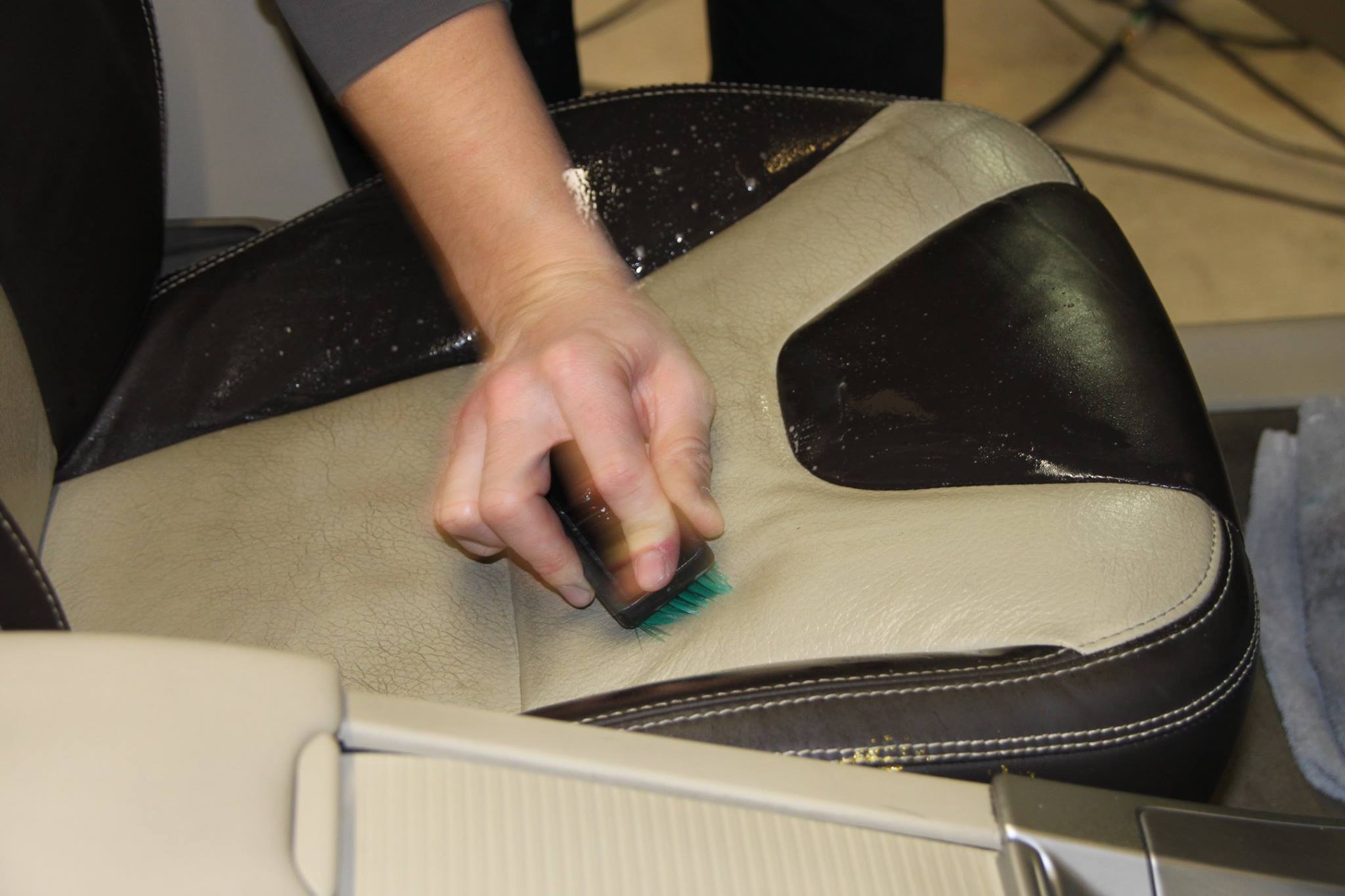 Color Glo International specializes in leather cleaning and refurbishing.
If you have an older car, you just might have leather that is un-coated with modern day clear coats. Your high-end luxury exotic has a completely different technology behind it's leather pilot's seats than your 1964 Ford Fairlane that took you on Friday night pink slip laps around the neighborhood.
Silicone dressing for automobile interior.
You should pass. Let's talk about out auto leather conditioner for a bit. Car leather today is the product of advanced engineering and manufacturing. It is highly resistant to wear and tear and daily use and abuse. Most of us that are in our early 40's and beyond, remember the day of hard cracked leather seats, hot surfaces, and deep conditioning. Gone are these days.
The thoughts of massaging some magically engineered car leather conditioner into our car leather that can take it from a state of wear to gleaming new, is the stuff of legends. These philosophies still sit deep-rooted in our society's heads, but in reality, this is clever marketing to keep you buying into manufacturer's "kool-aid".
Don't think you can apply auto leather conditioner without cleaning your leather first. The only exception is if your car is literally brand new. There will always be some form of dirt regardless of how clean your leather looks...so make sure you clean it first. Talk to your local Color Glo professional about mild cleaners that are designed to the job well.
Cleaning your car leather only will leave it with a satin, or matte appearance. If you want it to have a little shine then a dressing or conditioner may be the way to go, but be warned about dressings. Ryan explains why below.
Black or very dark leather interiors will typically have an inconsistent appearance after cleaning, making them more difficult to keep looking "like new". For this reason, we do suggest using a conditioner/dressing in most cases to create a perfectly even appearance after the cleaning process.
As you may have noticed, humans get lazy and like to skip steps. So you might find yourself wanting to skip the cleaning part next time around and simply be seduced into applying a fresh coat of dressing. This will create a worse problem over time as you will be rubbing a fresh coat of dressing along with any dirt deeper and deeper into every area of your fine upholstery. Over time you will create a nice build-up of dirt and conditioners which will actually begin to deteriorate your automobile's protective top coat. Keep our number handy... you will need it. :-)
Lastly, beware of the brands labeled as "long-lasting" or "water-resistant" as these silicone based dressings/conditioners will be difficult to clean completely off each time you do clean your car leather. Don't take the Tim Allen approach here form Tool Time and assuem that more is better. When it comes to dressings/conditioners, you actually want a product that will clean off easily each time and therefore allow for complete cleaning of your leather each time prior to a new application of conditioners.
Ryan Feeborn from Color Glo Oregon gives us his thoughts on silicone based dressings.
A few tips on auto leather conditioners
Just be smart and educated about your leather and auto interiors. Now that you're armed with a little bit of information based on real world experience, you can use the recommendations above to begin your own search. You may want to implement a schedule on your calendar if you're serious about protecting your investments. The "garage" or Man Cave schedule.
Clean your car leather once a month. If done regularly, it's just minutes of your time. If you procrastinate, it's a much bigger job which requires some beer and complaining - maybe that's better for you.... A microfiber cloth dampened with cleaner and aggressive rubbing is all your particular car leather may require if done so regularly.
Use a Color Glo leather conditioner if it makes you and your car leather feel a bit better about it all.
Use a canned aerosol dressing after cleaning any colored car leather to create a nice sheen. This will provide a consistent appearance after cleaning your car leather. This auto leather conditioner/dressing will also address the black/dark colored leather/vinyl interiors issue mentioned above.
Motor On!